Facility service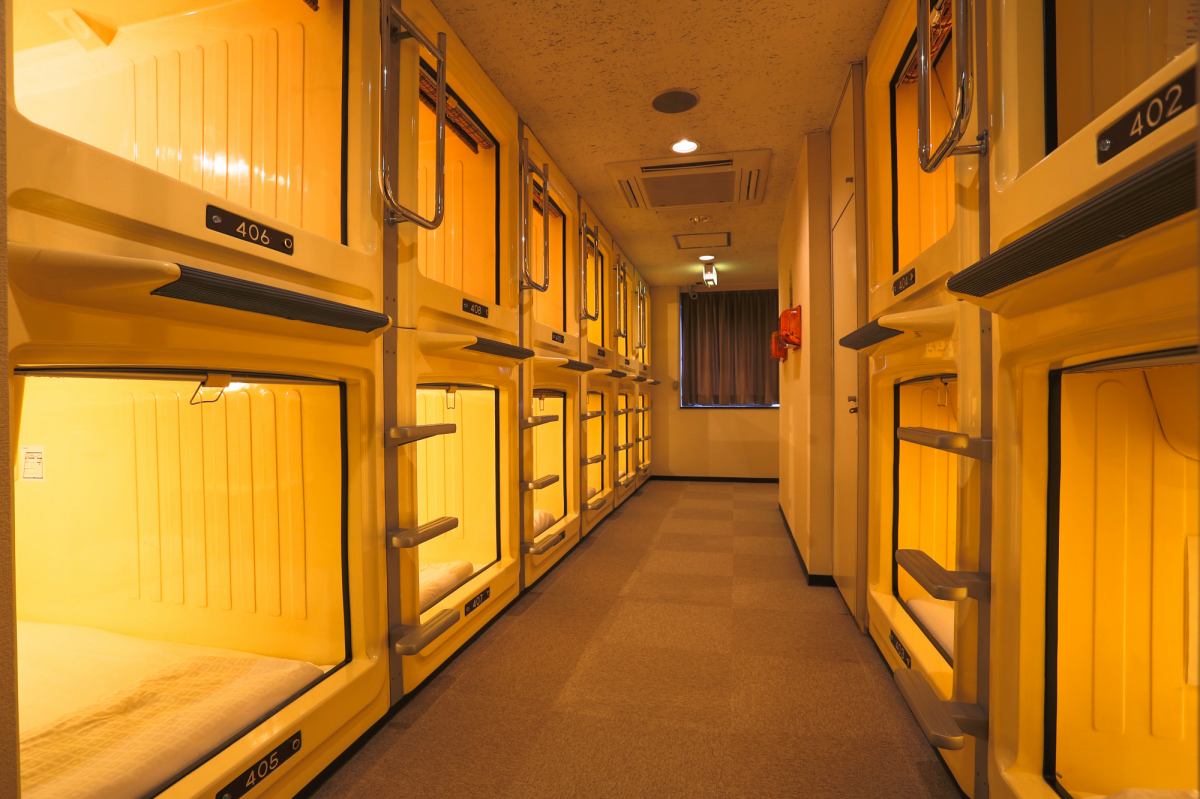 Capsule room exterior

All-you-can-use free Wi-Fi!

Capsule internal view

All rooms TV·Free Wi-Fi·Outlet equipped!
AV video Free broadcasting

Each floor washroom

Amenity goods are equipped

3 rd Floor break corner

There is also a vending machine

1F reception(front desk)

Please feel free to contact us.

We will check in by purchasing an accommodation ticket.

1F floor rest space

Even in the lobby on the first floor, you can drink and eat with you.


1F Customer Locker

There is a luggage storage in front of the front desk for big luggages.

1F Shoe deposit locker

It is a locker to leave your shoes

B1 Bath House

It is a large public bath with plenty of room to relax.

sauna

A sauna is also available in the bathroom

Paying washing machine

There is charge but there is washing and drying

Underground vending machine, alcohol etc.

Services

Drink Server

All you can drink coffee, tea
All you can drink coffee, tea in the lobby!
We also have a large TV set, so please relax and have a rest.
Smoking inside the capsule is non-smoking, but smoking space is also complete!



gown

The gown is inside the locker.

Number of rooms

112 rooms in total

Room supplement

All rooms capsule room

Standard room facilities

All rooms Air conditioning / Television / Satellite TV / Trouser press (including lending)

Internet related

All rooms available
[Connection method]Wireless LAN
[PC rental]No
[Internet connection]Free
★1st floor lounge,All rooms all-you-can-use WIFI unlimited use.


Amenities

Hand towel / toothbrush·Toothpaste / bath towel / shampoo / body soap / soap / yukata robe / hair dryer / shaving / cotton swab / comb·brush

Facility content

Lounge / Business Center / Non Smoking Room

Credit cards available locally

JCB / Visa / Master / American Express / UC / DC / NICOS / Diners Club / SAISON / UFJ

Standard check-in time

15:00

Standard checkout time

10:00

Supplement for amenity

Wireless LAN connection accepted(Free)
Laundromat(Toll)There
Coffee service(Free)
AV broadcasting(Free)

Cancellation provisions

On the day of arrival:100% of the accommodation fee
Cancellation without any contact:100% of the accommodation fee
※If there is a cancellation rule setting for each accommodation plan, that will be given priority.
Number of baths

"Outdoor bath] Man: 0 Female: 0 Mixed Bath: 0
[Inner bath] Man: 1 Female: 0 Mixed Bath: 0
[sauna] Man: 1 Female: 0 Mixed Bath: 0

Other bath facilities

sauna

Bath Terms of Use

Available 24 hours